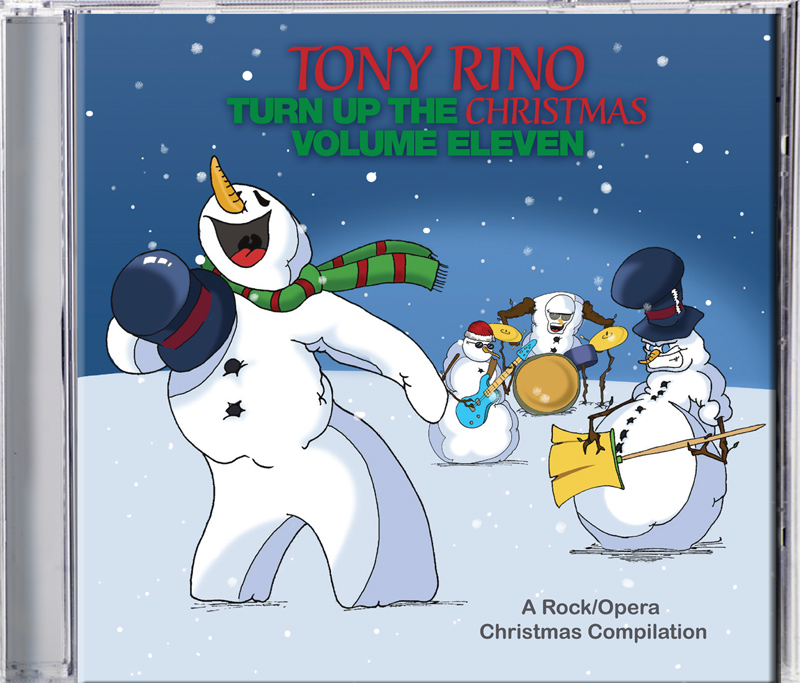 Tony Rino's third CD, Turn up the Christmas (volume eleven), is an exciting rock/opera project that features classic Christmas carols sung operatically with a rock soundtrack. Recorded at OCL Studios, this unique and creative compilation features numerous award winning musicians, including producer Russell Broom.
Turn up the volume past ten - to eleven! - for Turn up the Christmas!
>>Download on iTunes
SONGS
1. Hark The Herald Angels Sing (Wesley) - 3:09
Hark the Herald Angels Sing is song #1 on Turn up the Christmas (volume eleven). There's the unbelievable guitar solo by
Sam Coulson
from the band Asia, and that part in the keyboards by the incredible
Mike Little
that reminds me of the band Yes. Just two parts of the song that make it epic! Hope you enjoy Hark and all the other tunes on Turn up the Christmas, produced by
Russell Broom
and recorded at
OCL Studios
! Turn it up!! www.turnuptheChristmas.com
2. O Come All ye Faithful (Wade) - 3:09
O Come All ye Faithful is song #2 on Turn up the Christmas (volume eleven). It was fun singing the Italian verse and then adding a bit of Latin at the end!
Kenna Burima
is just awesome on background vocals. And another spectacular guitar solo from
Sam Coulson
! Really love this arrangement by
Russell Broom
. And my last note makes me think of that
Bugs Bunny Opera Singer
!! :-D Did you Turn up the Christmas yet? www.turnupthechristmas.com #Turnitup #TurnuptheChristmas
3. O Holy Night (Adam) - 4:23
O Holy Night is song #3 on Turn up the Christmas (volume eleven). Can't believe the amazing rhythm section of Lyle Molzan on drums and Mike Lent on bass who help make this arrangement by
Russell Broom
sing! #TurnuptheChristmas Got iTunes or Apple Music?
Listen now
!
4. I'll Be Home for Christmas* (Gannon, Kent, Ram) for Dr. Margo 4:00
Watch the video for I'll Be Home for Christmas.
I'll be Home for Christmas is song #4 on Turn up the Christmas (volume eleven).
First recorded by Bing Crosby in 1943
, it was originally written to honour WWII soldiers overseas who longed to be home at Christmas time. And I think it still applies today. I studied WWII when I returned to university a few years ago where I read Farley Mowat's 'And No Birds Sang.' I noticed the familiar names of several Italian towns I heard my dad mention over the years. And, when I told dad about it he told me some stories about growing up in Italy during the war that I'd rather not ever hear again. As a Canadian born from Italian parents, reading about how Canadian soldiers helped to drive the Nazis out of Italy was pretty powerful for me. I mentioned this story to
Russell Broom
who arranged the song and created the very emotional mandolin sound in the instrumental that gives this tune such a unique Italian feel. It's just amazing! There's another special meaning in this song for me, and that is the memory of my late professor and friend
Dr. Margo M. Husby
who taught that course where I studied WWII. Dr. Margo passed away too soon in 2013. I dedicate this song to you, Dr. Margo.
https://itun.es/ca/nWhhgb?i=1176272133
Turn it up! #TurnuptheChristmas
5. What Child is This? (Chattertion Dix) - 3:38
What Child is This is song #5 on Turn up the Christmas (volume eleven). This song, along with Hark the Herald Angels sing, was my inspiration for recording a Rock/Operatic Christmas CD. Plus, what Child is This is also my wife's favourite Christmas carol. :-) What Child is This is set to the tune of the traditional English folksong
Greensleeves
. I love the power ballad feel and the truly emotional guitar solo and acoustic layering, arranged and performed by
Russell Broom
. Mike Little adds some beautiful keyboard sounds. Mike Lent and Lyle Molzan are spectacular on bass and drums again. It was really hard to not let the emotion of the music get the best of me when I sang to this track! At Christmastime or anytime, the words to this song are incredibly meaningful. I think it's no coincidence that after much back and forth on the song order, What Child is This ended up in the center.
6. Joyful Joyful (Beethoven, van Dyke) for Frank L. - 1:58
Joyful, Joyful is song #6 on Turn up the Christmas (volume eleven). While it's often sung at Christmas, it is a much-loved hymn that's sung year-round. The tune is Ode to Joy from the 4th movement of Beethoven's 9th Symphony and has been a favourite of mine since I was a little boy when I would listen to classical music with my late grandpa, Antonio. But, I didn't think of recording the song right away. In early summer 2016, just before we were going into the studio, we had narrowed the CD down to 8 songs. I wanted one more, and something other than a Christmas song. Around this time, my wife's cousin Frank passed away. We were sitting in the chapel waiting for his service to start, I picked up the hymnal and it opened right up to Joyful, Joyful. And I said that's it! And I looked up and thanked our cousin Frank for sending the idea. The song is dedicated to him.
7. Christmas (Baby, Please Come Home)* (Barry, Spector, Greenwich) - 2:52
Stay tuned for more about this song...
8. Tu Scendi Dalle Stelle (Saint Alfonso Liguori) - 4:05
Stay tuned for more about this song...
9. Feliz Navidad* (Feliciano) - 3:37
Stay tuned for more about this song...
Total Time: 30:58
* Licensed
Turn up the Christmas (volume eleven)
© 2016 All Rights Reserved
MUSICIANS
Russell Broom - Guitarist (Jann Arden, Colin James and Sam Roberts);
Lyle Molzan - Drummer (Jann Arden, Dean Brody, Kathleen Edwards, Headstones);
Mike Lent - Bassist (Jann Arden, KD Lang, George Canyon, Chip Taylor);
Mike Little - Keyboardist (George Canyon, Grapes of Wrath, Tom Cochrane);
Sam Coulson - Guitarist (Band Asia) solos on 1, 2, 3 & 9;
Kenna Burima - Background Vocals; and,
Garry Sylvester - Accordion.
PRODUCTION
Dan Owen - Executive Producer;
Russell Broom - Producer & Mixed by;
Josh Rob Gwilliam - Engineer;
Matt Schultz - Studio Assistant
Megan Owen - Production Booking;
Brock McFarlane - CPS Mastering;
Tara McLaughlin - Cover Illustration;
Grant Hutchinson - Typography & Design Consulting; and,
Stuart Foster - Photography.
TURN UP THE CHRISTMAS (volume eleven)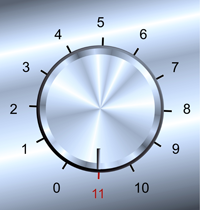 Special thanks to Dan for believing and making it happen
and to Russ for your musical genius and guidance.
And, turning up the extra special thanks!
To mom and dad for always encouraging,
to Pina for your incredible love and support,
to Joe for being my biggest inspiration,
to Diana for your enthusiasm and
to Rosa for your wisdom - I am your biggest fan.
Merry Christmas!